2019-05-31
Are you eager to give your tastebuds a tour around the world? With authentic restaurants of every possible cuisine, there's no better place for it than New York City. Next time you're craving a big plate of epicurean pleasure or a sophisticated restaurant with a wine list to die for, head to these restaurants—they are all concierge-approved!
Comfort Food in a Casual Atmosphere
Location: 5 Bleecker Street, New York, NY 10012
Cuisine: Japanese
For those who know that Japanese food is more than just sushi, Bessou is a superb option. Created by Maiko, a chef yearning to bring home cooked Japanese to New York, the seasonal dishes are fresh, locally sourced and hearty. The setting is minimalist and modern, just what you would expect from an authentic Japanese restaurant.
Mediterranean Food on a Sunny Day
Location: 116 Stanton Street, New York, NY 10002
Cuisine: Greek
When the weather is nice and you crave for the pristine shores of a Mediterranean island, go to Souvlaki GR. This restaurant, complete with outdoor seating, is a neighborhood gem that seeks to bring a little of Mykonos to Manhattan. The menu is made up of authentic Greek food with a touch of home cooking reminiscent of brunch at grandma's.
Cozy, Rustic and Inviting
Location: Restaurant Felice 64, 1166 1st avenue (at 64th Street), New York, NY 10065
Pasta Bar at Time Out Market DUMBO, 55 Water Street, Brooklyn, NY 11201
Cuisine: Italian
Felice has a selection of restaurants in Manhattan and Brooklyn. Our favorite options offer equally exquisite pasta and Italian food in different atmospheres. Felice 64 is the original location of the first ever Felice restaurant in NYC. It's perfect for an occasion that demands a meal paired with outstanding wine. If, instead, you are looking for Italian food in a laid-back and informal setting, head over to Felice Pasta Bar at the Time Our Market in DUMBO.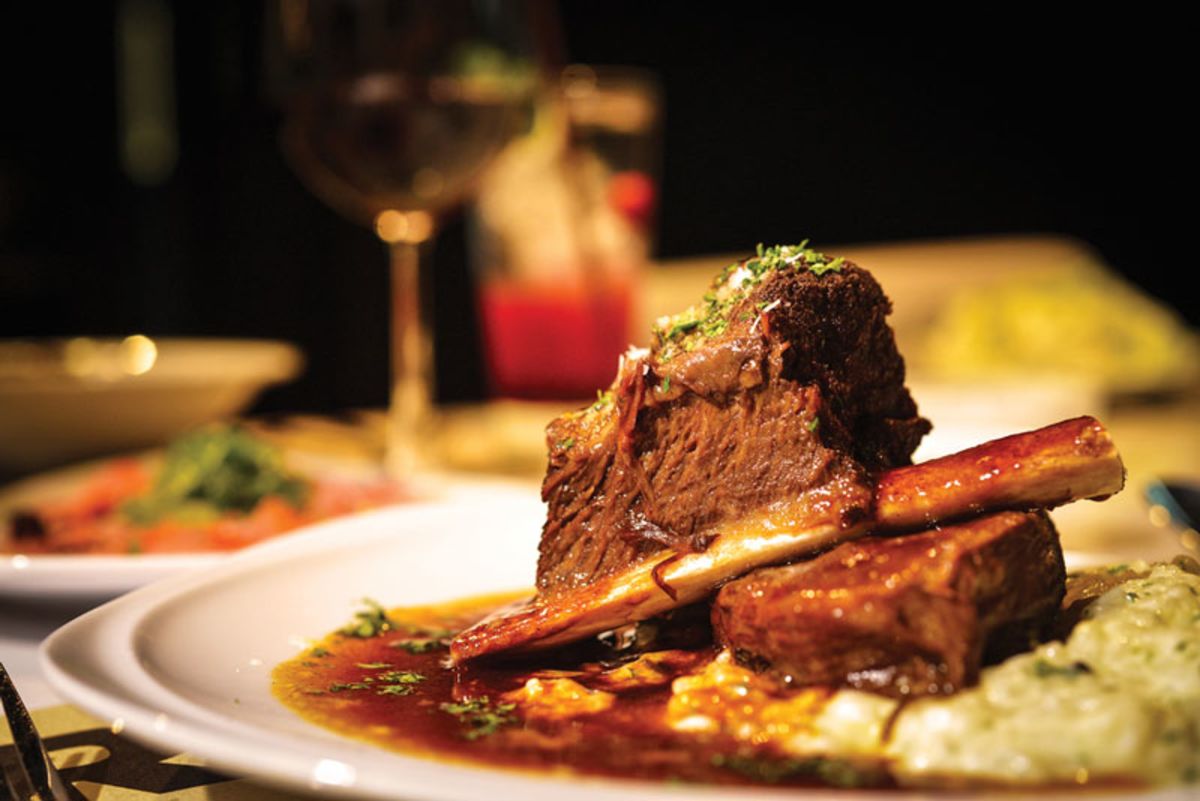 Smart Casual Dinner with Cocktails
Location: 117 W 58th Street, New York, NY 10019
Cuisine: American and Italian
If you're looking for a sophisticated restaurant that delivers in food, drinks and atmosphere, then go to Tuscany Steakhouse. With walls depicting rural Tuscany scenes and tables set up with elegant Italian flare, this place transports visitors to the Old Continent. The cocktails and the Porter Steakhouse are particularly popular.
Lively Restaurant, Good for Groups
Location: 341 Broome Street, New York, NY 10013
Cuisine: Mexican
Popular chef Ivy Stark recently opened a Mexican restaurant in Nolita. Casa Bocado oozes Mexican culture with the catrinas painted on the walls, colorful decor and authentic ingredients. As a good Latino restaurant, the atmosphere is warm and lively, making it the right choice for an outing with friends or a fun celebration. It also has live music on Thursdays—spicy margaritas, anyone? Try the Enchiladas de Mole Poblano (sauce made from 16 ingredients!) or the Red Snapper.